Car Thefts Increase By 50% In The Last 5 Years
Is your car safe and secure? If your answer is yes, you might need to think again.
Home Office official statistics state that 75,308 where reported stolen to the police in 2013-14. That figure frightening increased to 111,999 car thefts in the 2017-18 financial year. Meanwhile the latest car theft figures show one vehicle being stolen every 5 minutes or roughly 280 vehicles a day.
Source: https://www.autoexpress.co.uk/car-news/105283/car-thefts-surge-by-almost-50-per-cent-in-five-years
However, there are some products available on the market. Which will help you take extra precautions and protect your pride and joy. With so many options available on the market from high end to low end. The real question is which one do you choose?
So, I have personally selected 5 products which I believe in my opinion will get the job done without putting a huge hole in your back pocket. I will list my favorite products in price order from low to high.
Protect your key fob
The most common way new cars get stolen is via special signal amplifiers which use RFID (Radio-Frequency Identification) & NFC (Near-Field Communication), criminals use these to gain access to your vehicle.
I was fortunate to find this very inexpensive product the Streetwize Keyless Signal Blocker. After parking your vehicle at home or work, simply pop your car key into the pouch and close it. Quite simply 'Does Exactly What It Says on the Tin'.
Lock your steering wheel
Now let's say you just reached home, entered your house and haven't had the time to pop your key into the signal blocking pouch. Simple mistake but have no fear the Streetwize Double Hook Steering Wheel Lock is here. This could be the perfect level of extra protection you need for your car.
The product is a double hook steering wheel lock with a heavy-duty design and a unique cross key locking mechanism which simply helps increase vehicle security. Its very easy to install and comes complete with 2 keys, locking and unlocking instructions.
Leg Parking Barrier
So now you have a key pouch or steering wheel lock or maybe even both. This next product will help kill two birds with one stone. Now let's say you have a designated parking spot where you currently live. But most days once you reach home you are unable to park there as someone has taken your spot.  The Streetwize 3 Leg Parking Barrier could be the solution to your problems.
Its very simple to install, the fold-able parking barrier is perfect for driveways, designated parking spots and more.  Not only can you stop other drivers from parking in your spot. But also, when your car is parked in your spot during the night, you can deter potential thieves from stealing your pride and joy.
Lock & clamp your car wheel
Now if you wanted to take it one step further and you feel clamping your car wheel. Then look no further the Sealey PB397 Wheel Clamp with Lock & Key could be the product for you.
The wheel clamp is manufactured from quality steel and zinc plating which aids and resist corrosion. Fully lockable and is supplied with two keys, simple and quick ratchet action makes protection easy. Keeping your vehicle safe and secure.
Vehicle GPS Tracker
Let's say you have now purchased one of the products mentioned above. But still want a contingency plan just in case if all fails and your car gets stolen while you're at home or out shopping. The Streetwize Vehicle & Personal GPS Tracker is the product you need to have at your disposal.
Due to the size of this product it can be used in several applications and is simple to set up. Here are a few examples:
-Cars
-Pets
– Personal belongings (Back Pack or Hand Bag)
The size of the tracker is approx. 5 x 5 x 2 cm and requires a pay as you go sim card.
How to use:
-Insert your pay as you go Sim. Charge up the tracker or connect to a vehicle battery or vehicle in use.
-Send the tracker a text message from your mobile phone and it will reply with a map with the GPS location.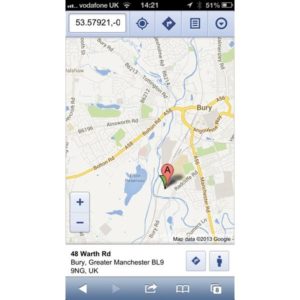 (Illustrations purpose only)
 Hopefully my list of products has given you an insight into the car tracking and security market and hopefully it will keep your investment safe and secure. For more useful information on protecting your vehicle, consumer advice, buyer guides and much more to improve, clean, repair and maintain your car visit the Euro Car Parts blog soon.