The condition of your wiper blades tends to be taken for granted until the time comes when you really need them. But if you've never replaced them before, or you've got a new car, it can be tricky to know exactly which wiper blades are compatible with your vehicle. Keep reading as we unpack how to find the right windscreen wipers for your car, and how to tell when it's time to switch them out.
How Often Should You Replace Wiper Blades?
Quality wiper blades from reputable brands should last your vehicle up to a year, although naturally this also depends on factors like how often you drive, and what the weather's like in your part of the world.
It should be fairly obvious when your wiper blades are on their last legs – but here are some key signs to look out for:
Loud squeaking when your wipers are on – this may indicate the rubber is too old, and no longer working correctly.
Your wipers are cracked, and leaving streaks across the windscreen when you use them.
They're failing to clear rain and snow, or any other dust and debris you try to shift with screen wash.
The blades have worn down and leave smears on the windscreen, which is both unpleasant and dangerous in bad weather.
In 2014, data from the DVSA revealed that ineffective wipers are the third most popular reason for an MOT fail in the UK – so if they're not doing the job, don't put off getting them replaced.
What Are The Different Sizes Of Wiper Blades Available?
You'll usually find wiper blades are measured in either inches or millimetres – and the length provided is of the entire windscreen wiper itself, rather than the blade alone. There's a huge range of sizes available on the market, measuring between 10-32 inches, so there's perfect fit for every type of vehicle, from Smart Cars right through to buses and lorries.
It's worth noting that you need to replace your existing wiper blades with a product that's the same size. If the new blades you purchase are too small, they won't cover the whole surface area of the windscreen, leaving gaps where the rain or dust won't be cleared away. Meanwhile, blades which are too big tend to wear out more quickly, and any excess rubber will dangle distractingly from the end of your windscreen wiper.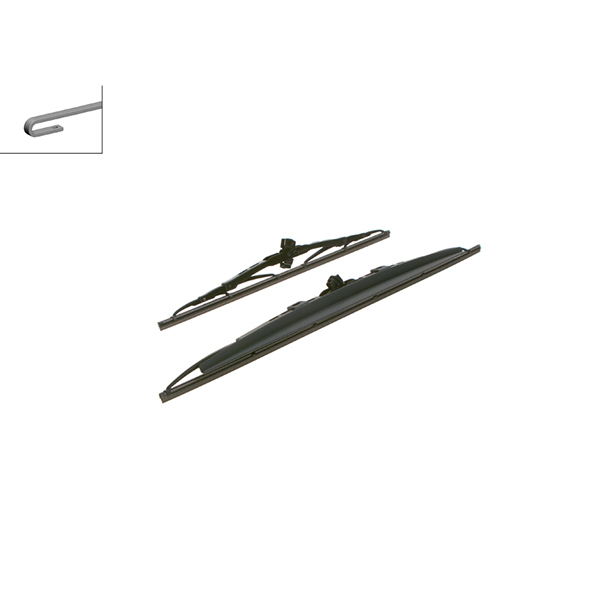 How To Find The Right Wiper Blades
Thankfully, finding the right wiper blades isn't a complicated process. You should be able to find the size of wiper blade you need specified somewhere in your vehicle manual, or even work it out manually by lifting up your wipers and using a measuring tape to record the length by hand.
If you're in a rush to find out which wipers fit your car, then the Euro Car Parts Fast Finder tool offers a super quick and convenient solution. When you type your registration number into the search bar, we'll filter through thousands of different products, to bring you a curated range of wiper blades which are compatible with your exact make and model.
Now you know how to find the right wiper blades for your car, but before you set out to buy replacements, it could be worth giving them a thorough clean. This can often improve the longevity and performance of your wipers, so take a look at our guide on how to clean your wiper blades for step-by-step instructions on doing this quickly and safely.