If you're planning a long car journey this holiday season then we've come up with an easy to remember list of essential car checks you should make before that long drive.
Wherever you're travelling to, follow this short but essential checklist and you won't go wrong provided that you think FLOWER!
Essential car checks – think F.L.O.W.E.R.
F is for fuel
The first of our essential car checks is fuel.
This may be the most obvious fluid for a long journey but you would be amazed at how many people set off without having enough petrol in the tank.
Yes, you may have to stop off for a few 'pit stops' with kids in the car, but you shouldn't need to add a fuel stop as well. Besides, everyone knows that motorway service stations are more expensive than your local garage.
L is for lights
Check all your car's lighting parts before you set off. the last thing you need is to be pulled over because a bulb has burnt out.
We suggest asking someone to help you, because unless you're Superman you can't press the brake pedal and be checking the brake lights at the same time.
Checking your headlights and indicators are working is easy. Simply switch on your headlights and press the hazard button for your indicators. Once you've done this a quick walk around the car should tell you all you need to know.
O is for oil

The third of our essential car checks is oil. Every engine needs a healthy supply of oil to run properly. It's best to check your engine oil level whilst the engine is cold and the vehicle is parked on a level surface. Obviously make sure the engine is turned off when you check the oil level.
To check your engines oil level simply pull out the dipstick, wipe it clean, replace and check the indicator markings on the dipstick. If you're running low on oil it is best to top it up before you set off as low engine oil levels can cause damage and could lead to your engine overheating. If you're not sure which oil is best suited for your engine check your vehicles manual, or check on our website.
W is for water
Whilst you're under the bonnet it's a good idea to check the other important lubricants and fluids your car needs to run properly.
The coolant level should be visible through the side of the reservoir. If it is slightly low don't worry as you can top it up with a little water. You shouldn't however mix different anti-freezes, so make sure you have the right one. If you aren't sure, we recommend asking a local mechanic.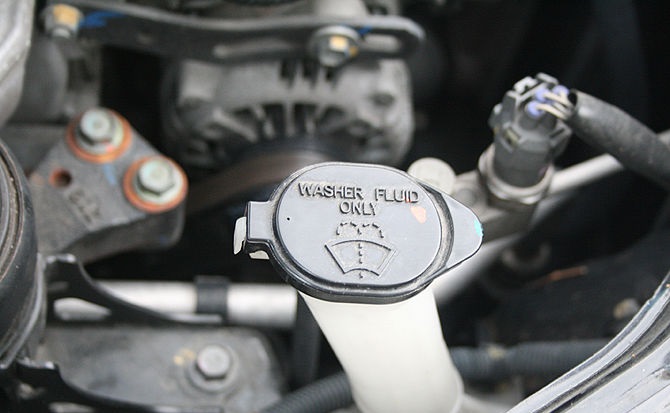 Whilst we're on fluids it's also important to check, and if necessary top up, your screen wash.
This is really simple but a very necessary step. You can fill the reservoir with a ready-mixed screenwash or plain water. After all you need to see where you're going!
E is for electrics
All vehicles (especially electric ones) need a car battery to run.
There isn't a lot you can do with modern batteries as you don't need to top them up anymore.
Just make sure you have one and that it's secure. If you can't find your battery under the bonnet, don't worry. Stay positive and check your vehicles manual, some modern cars have the battery hidden in the boot; others just have a plastic cover over them.
R is for rubber
The last of our essential car checks is your tyres!
There are four things to look out for when it comes to checking your tyres before a long journey.
Pressure
Uneven Wear
Side Wall Damage
Tread Depth
You should be able to find your vehicle's recommended tyre pressure in two places.
The cars manual will have a list of front and rear tyre pressures depending on how many people and how much weight you will be carrying.
There is also usually a sticker on the drivers' side door frame with the same information.
It is important to make sure you don't over or under inflate your tyres as this can lead to uneven wear, which can reduce their lifespan.
It's a good idea to check the general condition of your tyres when checking the pressure. Lumps, bulges, tears or cuts in the sidewall could lead to a dangerous failure if ignored. Sidewall bulges cannot be repaired, they show that the tyre is unsafe and must be replaced as soon as possible.
Tyres are illegal if you find a cut longer than 25mm or a cut deep enough that the cords are exposed.
Cracking in the sidewall is a sign of general aging, exposure to sunlight or salty air. Usually your tyres will wear out before they start to show signs of aging, however it can become an issue on those that aren't used very often, such as caravans and trailers.
The last thing to check on your tyres is the tread depth. It's important to note that the legal tread depth is 1.6mm. Most garages and tyre shops will recommend changing your tyres if the tread depth is less than 2mm. Luckily there are two easy ways to check the tread yourself.
Every tyre has a tread wear indicator built into it. These are small notches of rubber in the groove of a tyre to indicate the legal tread limit. If these are level with the outer layer of the tyre then it's time for fresh rubber on your wheels.
The second way is the 20p test. Simply take a 20p piece and insert it into the deepest part of the tread on your tyre.
If you can't see the outer band of the 20p coin then your tyre is legal. If you can see the outer band of the coin then your tyre is illegal, and you should change it.
If you have a spare wheel in the boot of your car it's also worth checking this, as no matter how carefully you drive you may need it at some stage.
For more maintenance and repairs advice, continue to come back to the Euro Car Parts blog and feel free to browse our full collection of car parts on our website. 
We have parts for all makes and models and we will even deliver them to your home on the next working day free of charge if you order before 4pm. Alternatively you can visit one of our 200+ branches nationwide to see the full range for yourself.