Now that summer is here, everyone is keen to hit the road for a staycation. Before you set off on a long car journey, don't forget to check your vehicle is ready to go too.
To help you get prepared before you start up your engine, we've put together a list of seven essential car checks to make before a long journey.
Check Your Tyres
If you're in for the long haul, and going to be driving for miles on end, you'll want a smooth ride. This is why it's so important to keep your tyres in prime condition.
Keeping your tyre pressure consistent is key to the quality of your drive, and will ensure that your tyres last as long as possible. There are two ways to find out the recommended pressure for your tyres.
Your car's manual will have a list of the optimal front and rear tyre pressures depending on how many passengers and how much weight you expect to be carrying in the vehicle.
Most cars also have this information listed on a sticker on the door frame of the driver's side. Make sure you stick to the guidance, as both an under or an over inflated tyre can cause potential issues – driving a car with uneven tyres can also cause you to use more fuel than necessary.
All new cars are fitted with a tyre pressure monitoring system and this should notify you of any pressure leaks. But even if you have this feature, you shouldn't forgo the manual safety checks.
It's a good idea to check the general condition of your tyres when checking the pressure. Lumps, bulges, tears or cuts in the sidewall could lead to a dangerous failure if ignored. Sidewall bulges cannot be repaired, they show that the tyre is unsafe and must be replaced as soon as possible.
Tyres are illegal if you find a cut longer than 25mm, or a cut deep enough that the cords are exposed.
Cracking in the sidewall is a sign of general aging, exposure to sunlight or salty air. Usually your tyres will wear out before they start to show signs of aging, however it can become an issue on those that aren't used very often, such as on caravans and trailers.
Finally, make sure you keep an eye on the tread on your tyres. The legal tread depth is 1.6mm, but most garages and tyre shops will recommend changing your tyres if the tread depth is less than 2mm. There are a couple of ways to check the tread depth yourself.
All tyres have a tread wear indicator built into them; these are small notches of rubber in the groove of the tyre, which indicate the legal tread limit. If these are level with the outer layer of the tyre, then it's time to replace your tyres.
You can also keep tabs on your tread with the 20p test. Just put a 20p piece into the deepest part of your tyre. If you can't see the outer band of the coin then your tyre's legal, but if the outer band of the coin is showing, then you'll need to replace your tyre.
If you have a spare wheel in the boot of your car it's also worth checking this, as no matter how carefully you drive you may need it at some stage.
Test Your Lights
There might be more daylight during the summer, but that doesn't mean that you should forget about your car's headlights, and this is why it needs to be on your car checklist before a road trip.
We know that when prepping the car there's a lot to remember, but making sure that all of your bulbs and lights are working is easy to do, and shouldn't take more than a couple of minutes.
You'll need someone to help you when you're giving them the once over, so switch the engine on, and get your assistant to walk around the car, checking that everything is in order. Remember to check your indicators, brake lights and hazards – you don't want any surprises when you're on holiday. Read our article on checking your lights for a more in-depth guide.
Monitor Your Engine Oil Level
When you're checking over the exterior of your car ahead of a long journey, it can be quite easy to forget about what's going on under the bonnet. In order for everything to stay healthy under the hood, it's vital that you keep tabs on your engine oil.
Check your oil when the engine is cool, and you're parked on level ground. All you need to do is pop open the bonnet, and look for the dipstick. Pull it out, wipe off all of the oil so that it's clean enough for you to see the two distinct marks, identifying the maximum and minimum oil levels.
Dip it back into its tube, give it time to sit, and then remove it again so you can see what the oil level is. If the mark sits midway between the two points, then you're ready to go. But if it's under that halfway point, then it's advisable to top up your oil, because low levels can cause damage and could lead to your engine overheating. There's a huge variety of different engine oils out there, so it's essential that you select the right one for your car.
Top Up Your Screen Wash and Other Fluids
As we all know, visibility is vital when driving, and if you're heading away on holiday, you won't want your vision impaired. During the summer months, pollen and flowers can drop onto your windscreen, and so it's sensible to stay topped up with screen wash.
Screen wash is specifically designed to keep your windscreen clean. It helps prevent the wiper blades damaging the screen, and because it contains water softener, it will keep your car's pipes and jets sparkling.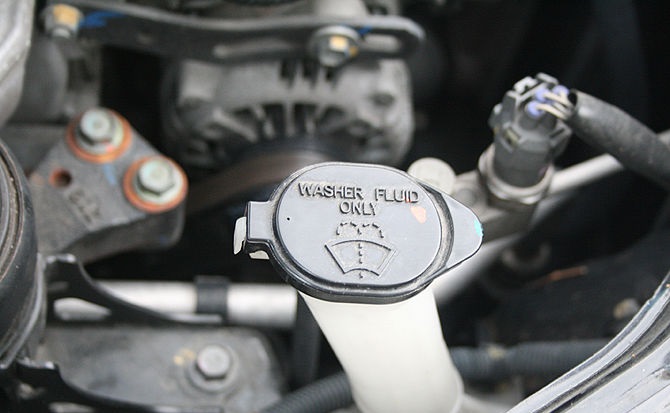 In order to replace your screen wash, you'll need to find the car's washer bottle. You can find it if you look in your car's handbook, but you may be able to find it without – the cap is often blue, although it can sometimes be white or black. The top of the cap should be easily identifiable because it'll have an image of a windscreen with water droplets dotted on it.
Check with your car handbook, though, before you start pouring screen wash in. Every car has a different capacity, and you don't want to damage your car, especially before a long drive.
Whilst you're under the bonnet it's a good idea to check the other important lubricants and fluids your car needs to run properly too.
Fill Up Your Fuel Tank
This may seem like the most obvious check before a long journey but you would be amazed at how many people set off without having enough petrol in the tank.
While you may have to stop off for a few 'pit stops' with kids in the car, but you shouldn't need to add a fuel stop as well. Besides, everyone knows that motorway service stations are more expensive than your local garage.
Check The Electrics
All vehicles (especially electric ones) need a car battery to run. If your car has been sat unused for a long period of time, make sure you start it in advance to make sure the battery hasn't gone flat.
If the battery has died, you can revive it with jump leads and another vehicle with a fully-charged battery. If this fails it can be replaced at home or at a local garage.
If you're heading on holiday in your motorhome or caravan, make sure you recharge or replace the leisure battery before you set off. These batteries are required to power the on-board appliances such as the lights, kitchen appliances and TV. It's safe to use up to 50% of your leisure battery's charge, after that it's recommended to recharge it.
Pack Your Tech
If you're planning to drive for a distance, then it's always good to have some tech in the car to help with the journey. The right in-car technology can help you to know precisely where you're going, keep passengers entertained, and even capture footage of anything that goes wrong on the road.
We know that some of you out there rely on a sat nav to reach your final destination, so make sure that you've packed it. There's nothing worse than driving on a new road and unexpectedly picking up a speeding ticket, so it's always sensible to have a speed camera detector on board too.
It is likely that you'll need to plug in your phone during a long journey, so make sure that you've packed your tech accessories.
Packing a dashcam is something you should add to your car checklist before a road trip. It's a device that can offer great comfort ahead of a long car journey due to the fact that it records all of your time on the road. Plus, if the worst case scenario occurs and you're involved in an accident, it's a good piece of kit to have when sorting out matters with insurance.
Do you need to stock up on any essentials before going on a long road trip this summer? Here at Euro Car Parts, we stock over 130,000 products from industry-leading brands, and provide next-day and same-day click & collect. Shop now or read more of our blogs for further tips and advice.